Creating Digital Resumes for Individuals with Limited Communication Skills
After graduating from high school, Michael Montgomery spent three years learning independent living skills through the 4J School District's Community Living Program (CLP) in Eugene, Oregon. Diagnosed with autism at 18 months, Michael's situation is typical among families receiving lifelong support services for their now-adult children.
At the CLP students spend part of their day at community-based work sites. For the other part of the day, they attend classes in an apartment setting where they can work on individual goals in functional skills like accessing their communities via the local bus line, money management, meal preparation, self-care, and social skills.
One of the key elements of the CLP program is the emphasis on self-advocacy. Students meet weekly with their teacher or one of the instructional assistants to track personal goals, work on individual budgets, and problem-solve. As part of the weekly advocate meeting, Michael and his teacher would add photos and videos of the interests and strengths that reflect his employment experiences to an ePortfolio.
Now that he has reached age 21, Michael's access to education services has ended. To continue his career momentum, Michael is now using the MyLife app from Cognitopia to create a digital scrapbook of his life and demonstrate his job skills for a potential employer.
Recently, Michael was featured in a story Tech Savvy, Tech Ready in the Register Guard newspaper earlier this year for his years of volunteer service at NextStep Recycling—a local electronics recycling center that provides training to children and adults who may have barriers to employment and education. He has progressed from the dismantling department to computer building and A/V testing, and finally to researching and posting items for sale on their eBay account.
"When he was at CLP, the autism consultant created videos of Michael working at his various workstations at NextStep. Michael and his teacher would add these videos to Michael's ePortfolio during advocacy meetings. It was absolutely wonderful for him," Susie added. "Now he does the entire TV section on his own and has learned to post on eBay." She added, "The main reason we became interested in Cognitopia was that we wanted to continue to build upon Michael's video resume. Because his autism creates challenges in his communication abilities, a visually rich website is a big thing for him."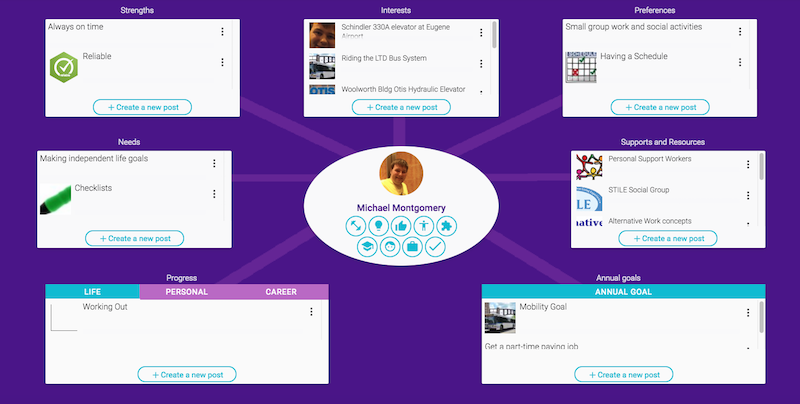 "When I first saw MyLife, I was blown away by the fact that it's a living, visual way to track your whole life from your goals to your career and independent living. You can put everything on it and create a dynamic visual representation of who you are that you can share with anyone.  My son can build and keep his lists, show other people what he can do, and showcase his many marketable skills and talents, all without having to try and describe them to a potential employer."
While continuing to live at home with his parents, Doug and Susie, Michael practices the skills he learned at CLP.  "We created a homeschool model based on the CLP program that includes cooking, budgeting, transportation, and social skills," Susie explained. "Michael's not quite ready to live on his own, but he's working hard and making great progress."
A lover of elevators, pinball, and researching bus schedules, Michael's Cognitopia account contains photos of his favorite hobbies. He's also starting to use the Goal Guide and Routines apps to track progress and create task analysis.  Susie is optimistic. "Michael and I will be really getting into this now that he has graduated from CLP and is moving on to working with his vocational rehabilitation counselor for job coaching and job searching."
Julie Henning has been with Cognitopia since 2015. In that time, she has been involved in customer support, training, marketing, documentation, social media, and data collection. Some of her favorite projects have been mentoring our videographer intern, Nate, and weekly classroom testing and curriculum development for the many students in the 4J Connections Transition program. She works closely with Eugene-based SLLEA (Smart Living, Learning & Earning with Autism) to integrate Cognitopia's self-management tools into the organization and structure design input and support platform implementation. Professionally, Julie has over twenty years' experience working in engineering, technology, software development, and journalism; a path made possible with two degrees in Technical Communication: a BS from the Milwaukee School of Engineering and a MS from Colorado State University. A single mom of three high schoolers (grades 9, 10, and 11), Julie has introduced Cognitopia to terms such as "sick" and "yeet," while overseeing the office coffee consumption. In her free time, she enjoys playing recreational soccer, improv comedy, and traveling.